Visite d'une délégation syndicale internationale au Sahara Occidental du 17 au 22 février 2008
Visita de una delegación sindical internacional en el Sahara Occidental del 17 al 22 de febrero de 2008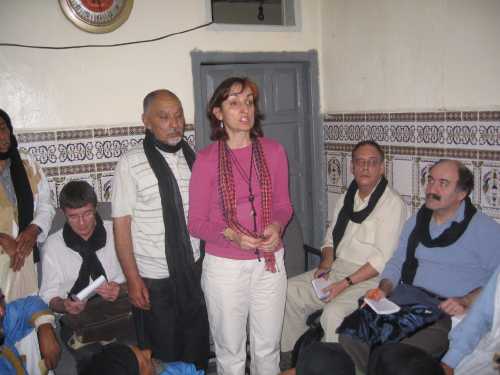 19.02.08, El-Ayoun
Une délégation de syndicalistes composée de représentants de la CGT France, de la CGIL Italie et des CCOO Espagne s'est rendue au Sahara Occidental pour rencontrer les travailleurs et retraités sahraouis de la mine de phosphates de Boucrâa et de l'ancienne administration espagnole. Ce sont plus de 22'000 Sahraouis, ouvriers, militaires, fonctionnaires, etc., qui ont été au service de l'Espagne durant la période coloniale et qui revendiquent leur droit à une retraite.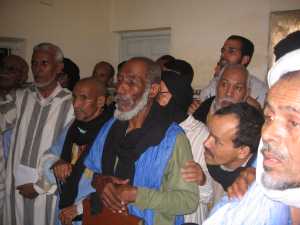 Le 19 février, la délégation européenne a rencontré une centaine de travailleurs et retraités au domicile de Sidi Ahmed Eddia, pour les informer sur les efforts entrepris pour régulariser leur situation auprès de leurs ex-employeurs espagnols. C'est alors que la police marocaine a arrêté les syndicalistes européens ainsi que le représentant des travailleurs et retraités de Fosbucraa, Sidi Ahmed Eddia et son épouse.
L'Espagne a cédé en 1976 la majorité de ses parts de l'entreprise Fosbucraa (65%) à l'Etat marocain. Le nouveau colonisateur a immédiatement rompu les contrats des 721 travailleurs sahraouis. Depuis 1999 Sidi Ahmed Eddia multiplie sans résultat les démarches auprès des autorités marocaines et espagnoles.
Les trois syndicats impliqués, ainsi que l'eurodéputé Jean-Paul Lecoq, ont vivement protesté. Le CSPRON , le Comité de Soutien au Plan de Résolution Onusien et pour la Protection des Ressources Naturelles au Sahara Occidental, s'est adressé au président de l'UE.
[Actualités février 2008/ARSO]



Arrestation d'une mission syndicale au Sahara Occidental:
Sahara Libre, 20.02.08

SPS
, 23.02.08

Jean Paul Lecoq - Communiqué de presse - Arrestation par la police marocaine de la Délégation syndicale européenne et de citoyens sahraouis,
22.02.08

El Moudjahid,
27.02.08

Lettre de la CGT à l'ambassadeur du Maroc en France
, 26.02.08

La CGT interpelle l'ambassadeur du Maroc en France, La Nouvelle République 28.02.08

Lettre du CSPRON (Comité de Soutien au Plan de Résolution Onusien et pour la Protection des Ressources Naturelles au Sahara Occidental) à l'union Européenne
ASVDH, 28.02.08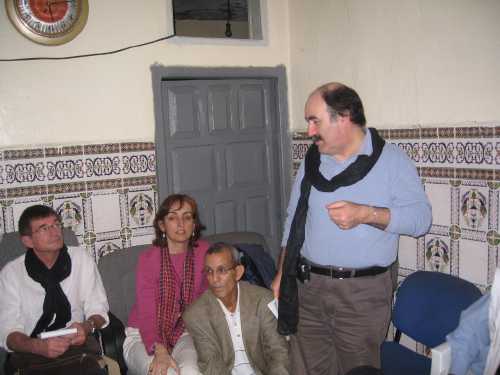 19.02.08, El-Ayoun


A delegation of trades unionists made up of representatives of the CGT France, CGIL Italy and CCOO Spain travelled to Western Sahara to meet Saharawi workers and retired workers from the phosphate mine of Boucraa and the former Spanish administration. There are over 22,000 Saharawi workers, soldiers, officials etc who worked in the service of Spain during the colonial period and who are claiming their right to a retirement pension.
On 19 February, the European delegation met about a hundred workers and retirees in the home of Sidi Ahmed Eddia, to inform them about the efforts undertaken to regularise their situation with their former Spanish employers. This is when the Moroccan police arrested the European trades unionists as well as the representative of the workers and retirees of Fos Bucraa, Sidi Ahmed Eddia and his wife.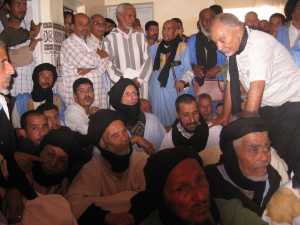 Spain ceded in 1976 the majority interest in the business Fosbucraa (65%) to the Moroccan state. The new coloniser immediately broke the contracts of 721 Saharawi workers. Since 1999 Sidi Ahmed Eddia has tried again and again without any results to take steps with the Spanish and Moroccan authorities.
The three unions implicated, as well as the European MP, Jean-Paul Lecoq, have protested strongly. CSPRON , the Committee of Support for the UN peace plan and for the protection of the natural resources of Western Sahara, wrote to the EU President .
[News february 2008/ARSO]

Trade union activists detained
, WSRW 21.02.08

Arrest of International Trade Union activists from Spain, France and Italy in El Aaiun, Western Sahara,
CODESA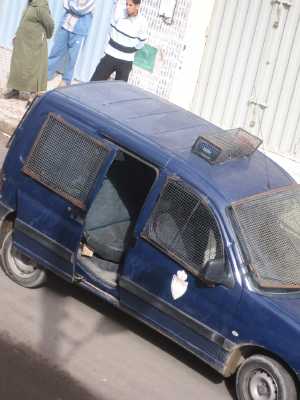 19.02.08, El Aaiún
Una delegación de sindicalistas compuesta de representantes de CGT Francia, de la CGIL Italia y de las CCOO España, fue al Sáhara Occidental para encontrarse con los trabajadores y jubilados saharauis de la mina de fosfatos de Boucraa y la antigua administración española. Son más de 22000 saharauis, obreros, militares, funcionarios, etc., que estuvieron al servicio de España y que reivindican su derecho a una pensión de jubilación. El 19 de febrero, la delegación europea se reunió con un centenar de trabajadores y jubilados en el domicilio de Sidi Ahmed Eddia para informarles sobre los esfuerzos llevados a cabo para regularizar su situación ante sus ex empleadores españoles. Fue entonces cuando la Policía marroquí detuvo a los sindicalistas europeos así como al representante de los trabajadores y retirados de Fosbucraa, Sidi Ahmed Eddia y su esposa.
España cedió en 1976 la mayoría de sus participaciones en la empresa Fosbucraa (65%) al Estado marroquí. El nuevo colonizador rompió inmediatamente los contratos de los 172 trabajadores saharauis. Desde 1999 Sidi Ahmed Eddia multiplica, sin resultados, las peticiones ante las autoridades marroquíes y españolas.
Los tres sindicatos implicados, al igual que el eurodiputado Jean-Paul Lecoq, protestaron enérgicamente. El CSPRON, siglas en francés para el Comité de Apoyo al Plan de Resolución Onusiano y para la Protección de los Recursos Naturales en el Sáhara Occidental, se dirigió al presidente de la UE para pedirle el fin de la represión en el Sáhara Occidental.
[Noticias febrero 2008/ARSO]

Comunicado CCOO
, 20.02.08

SPS
, 21.02.08

SPS
, 23.02.08 [Un diputado francés denuncia la detención arbitraria por Marruecos de sindicalistas europeos y de ciudadanos saharauis]

Marruecos retiene a dos sindicalistas de Comisiones en El Aaiún
, Luis de Vega , ABC, 20-2-2008

La polizia marocchina ferma una delegazione europea di sindacalisti e il rappresentante dei lavoratori e pensionati sahraouis di Phosboucrâa
, (Fonte AFASPA)

Dirigenti sindacali trattenuti dalla polizia marocchina


LINKS - ENLACES


Fosfatos de Boucraa:
http://www.geocities.com/eddia2002/
Western Sahara Ressource Watch :
http://www.wsrw.org/
---
[
ARSO HOME
]