Révolte des Sahraouis - Revolt of the Saharawis - Revuelta de los Saharauis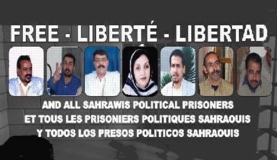 The testimony of the Sahrawi political prisoner Mohamed Elmoutaoikil's wife
At about 06:30 on Wednesday, July 20th, 2005, I heard some knocks at the door in Casablanca . I was astonished by 06 agents breaking into the house and fetching all of it.
My children and I were frightened because the agents were shouting as they were going to our bedroom where my husband, Mohamed Elmoutaoikil was sleeping.
As my husband woke up, he was surprised by more than a strange person in his bedroom; they informed him that they are police agents and they wanted to arrest him. They wanted to take him with his sleeping pajamas, but he refused and changed his clothes.
As they were leaving, one of them felt that there was another person in our living-room. They woke him up and arrested him after verifying his identity card as he was originally from El Ayun.
Both my husband and our guest, Fdaili Gaoudi, were taken by the police agents wearing civil clothes. They were put in a civil car and followed by four other agents in another car and another group in a third car.
The night before I remember I noticed that some strange people were moving around the house the whole night, but we didn't notice that they were police agents.
We were separated from my husband and our guest in a horrible atmosphere with no judicial order by the police agents who did not show but their profession cards.
While thinking about visiting my husband in the Wilaya of Casablanca, at about Midday, I was astonished by about sixteen police agents in civil clothes breaking into our house for a second time during the same day. They did not show me their identity cards. They only said they were police members. They fetched all the house and all my husband's papers, books, clothes and personal documents. They took some audio tapes and some video ones and some other documents that I do not know their content. The tapes that they took are my children's language learning cassettes.
They turned everything in a mess. They also fetched my husband's car and took a file whose content I do not know. They also wanted to take my little radio, but I refused.
In the afternoon of the same day, I went to the Wilaya of Security in Casablanca to see my husband. A security official informed me that they did not see Mohamed Elmoutaoikil and our guest, Mohamed Fadel (Fdaili) Gaoudi on Wednesday.
Until Thursday, July 21, 2005, I did not know anything about my husband, and I was wondering what "crime" has my husband committed to be arrested at half past six in away that made our neighbours very frightened as well.
They were taken in inhuman conditions, as my husband told me later on, to El Ayun after about two hours interrogation in Casablanca by Hamidou Laanigri, the General Moroccan Security director. On Friday, they were sent to the general attorney in the court of appeal in El Ayun, who added more 24 hours for investigation. On Saturday, my husband was put in the Black Prison in el Ayun, while our guest, Fdaili Gaoudi was released.
I traveled to El Ayun, 1200 kilometres far from Casablanca, together with my children. As I arrived and saw my husband and his comrades, I was shocked on Monday, August 01, 2005. He was invited by the police at about 08:00 together with Tamek Ali Salem, Noumria Brahim, Lidri Elhoucine and Massaoud Ela Arbi to stand in front of the examining magistrate in the court of appeal in El Ayun. They were surprised to find themselves in a secret jail belonging to what is called, The urban Security Group, GUS, where new hard treatment was started: they were handcuffed to the back and blindfolded. Every two of them were put under the seats of the police big car at the back. In this humiliating and inhuman state, they were taken northward to put Tamek in the local prison of Ait Melloul and the other four in Oukasha prison in Casablanca.
I went back again together with my three children to Casablanca, where the real suffering started. From my house to the prison, I have to pay 60 MDH everyday, about 06 Euros, apart from the complicated measures and difficulties encountered in the prison.
On Friday, August 05th, 2005, I entered Okasha prison for the first time, I was forbidden to contact him in a direct way, but they made some fences as hinders about two metres between us, and some guards going and coming in front of us, listening to what we said.
He told me he was not allowed to see the other activists arrested with him: Noumria Brahim, Lidri Elhoucine and Massoud El Arbi, who were distributed in different districts of the prison and making excessive control on them. He also informed me that they were not told they would be put in Okasha prison, and that they were only informed they would stand in front of the examining magistrate in El Ayun. They were taken by the GUS with no stop in hard conditions from El Ayun to Casablanca. They were not allowed to drink, eat or go to the toilet during the whole trip. For two days later on, they could not move their hands!!!!!!!
More than this, we, the activists' families, are not allowed to see them only once a week and we are strictly controlled, unlike the other prisoners' families. As we arrive at the prison , we feel that there is more movement, and the appearance of some agents that their orders are more powerful than the prison administrators'. We were sure that they were secret security agents. As we protest against some illegal behaviour, we are answered that there are orders from high officials to do so. Even my personal things are fetched although I wrote to the minister of Justice and the president of Consultative council of Human Rights, and I contacted many human rights associations in Morocco that in their turn wrote to the officials , and also we made two protest sit-ins in front the prison, but in vain.
The activists today are still continuing their hunger strike that they started on Augus 09th, 2005 calling for the improvement of their conditions and their release. Their lives are in danger and the Moroccan authorities did not react to this at all.
The most strange is that the Moroccan parties and the Moroccan media are in a secret conspiracy with the Moroccan authorities.
I hope that my testimony will be heard be by the human rights organizations, governments and all the democrats in the world in order to save the lives of my husband and his comrades who are going on an open-ended hunger strike.
Minatou Bainaho
The wife of the Sahrawi political prisoner, Mohamed Elmoutaoikil

---

[Intifada 2005] [Violations des droits humains dans les territoires occupés au Sahara Occidental et au Maroc ] [Communiqués, lettres, Documents...] [HOME]