Révolte des Sahraouis - Revolt of the Saharawis - Revuelta de los Saharauis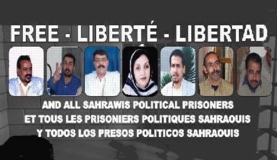 A group of Sahrawi political prisoners refuse to have water and sugar in a clear challenge to the Moroccan state pressures (03.09.05)
The Sahrawi political prisoners, heroes and symbols of the intifada of independence in all the Moroccan prisons are on the 25th day of their heroic open-ended hunger strike despite their daily suffering, the dangerous deterioration of their health and the racist policy that the Moroccan state use against them. They are prohibited of their families' visits, who are subjected to a savage and humiliating intervention by the Moroccan repressive forces.
In a constant challenge of the pressures exerted by the Moroccan state on them in order to break their open-ended hunger strike, the Sahrawi political prisoners, Aalouate Sidi Mohamed, prison number 26 141, Elkarcha Hammadi, prison number 26 140, Yaya Elbachir, prison number 26 135, stopped having water and sugar, on September 02, 2005. They intend to prove the Moroccan state's lies and the ferocious campaigns against the Sahrawi political prisoners going on hunger strike. The latest of these lies is the release of the Moroccan Minister of Justice, in which he alleged that there are no hunger strikers.
They also demand the Moroccan state to assume its responsibility concerning what is happening and what may happen to them,trying to sensitize the local and international public opinion of the catastrophic condition of their health state. [corr.]
News from the Sahrawi political prisoners and human rights activists in Oukacha Prison in Casablanca - 25th day of hunger strike - health deterioration
The daily suffering of the Sahrawi political prisoners in Oukacha Prison in Casablanca, Morocco: Mohamed Elmoutaoikil, Elhoucine Lidri, Brahim Noumria, Larbi Massaoud, is increasing because of the extreme tiredness they feel at the 25th day of their open-ended hunger strike since August 09th, 2005. The Moroccan authorities continue to refuse any negotiations with them in order to cater for their legitimate demands and to give them necessary medical treatment.
The health of the Sahrawi political prisoners is deteriorating very seriously:
1. Elhoucine Lidri: can no more move his hands and lost the sense of touching because of the torture he and Brahim Noumria were subjected to by a group of Moroccan torturers and became very skinny apart from his inability to walk.
2. Brahim Noumria: suffers from weight loss and severe pain in the eyes as well as heart disorders.
3. Larbi Massaoud: suffers from severe pain on the back and serious weight loss.
4. Mouhamed Elmoutaoikil: suffers from serious pain in his digestive system and in the chest.
The prison administration still denies the families of the Saharwi human rights activists from their right to daily visits although they organized some sit-ins in front of Oukacha prison in Casanlanca, Morocco.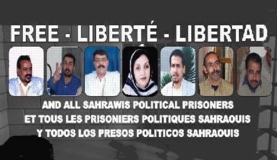 Un grupo de presos políticos saharauis renuncia a beber agua y azukar en un nuevo desafio a las presiones del ocupante marroquí. (03.09.05)
Los presos políticos saharauis símbolos de resistencia y la intifada saharaui por la independencia siguen con su lucha entrando en su 25 días de huelga de hambre a pesar del deterioro de sus estados de salud de forma ya muy notable y desafiando la indiferencia de las autoridades de ocupación marroquí.
Más aún la actuaciones chovinistas de las autoridades de ocupación marroquí y desde el principio, no ha escatimado esfuerzo ninguno en agredir, humillar y oprimir tanto a los propios presos como a sus familiares que llevan una lucha ejemplar en denunciar los tratos crueles y degradantes del los que están sometidos sus hijos en las cárceles.
Caminando adelante con esta lucha un grupo de los presos políticos saharauis en huelga inagotaron hoy 02 de septiembre de 2005, un nuevo episodio renunciando a la bebida de agua y azúcar; se trata de Sr. Aaluat Sidi Mohamed (Número: 26141), El Karcha Hammadi (Número: 26140) y Yaya Bachir (Número: 26135). Estas valiente decisión es una respuesta al comunicado del llamado ministerio de justicia marroquíe que se ha hecho público ayer donde dicho ministerio desmienta la situación de huelga de hambre llevada acabo por los presos políticos saharauis desde el 09 de agosto.
Ademas se pretende llamar la intención de la opinión pública internacional de la alarmante situación que viven los presos políticos saharauis en particular y el conjunto de la población civil saharaui en los territorios ocupados por Marruecos del Sahara Occidental. [corr.]
Noticias de los presos políticos saharauis y activistas de derechos humanos en la cárcel de Oukacha en Casablanca - Día 25 de la huelga de hambre - Deterioro grave de su salud.
El sufrimiento diario de los presos políticos saharauis en la cárcel de Oukacha en Casablanca, Marruecos: Mohamed Elmoutaoikil, El Hussein Lidri, Brahim Noumria, Larbi Massaoud, aumenta debido al cansancio extremo que sienten en el día 25 de su huelga de hambre indefinida, que comenzó el 9 de agosto de 2005. Las autoridades marroquíes siguen rechazando cualquier negociación con ellos sobre sus legítimas demandas y darles el tratamiento médico que necesitan.
La salud de los presos políticos saharauis se deteriora muy seriamente:
1. El Hussein Lidri: no puede mover las manos y no las siente debido a la tortura a la que él y Brahim Noumria fueron sometidos por un grupo de torturadores marroquíes. Ha perdido mucho peso y se encuentra incapaz de andar.
2. Brahim Noumria: sufre pérdida de peso y un dolor intenso en los ojos, así como alteraciones cardiacas.
3. Larbi Massaoud: sufre dolor intenso en la espalda y seria pérdida de peso.
4. Mohamed Elmoutaoikil: sufre graves dolores en el aparato digestivo y en el pecho.
La administración de la prisión aún niega a las familias de los activistas saharauis de derechos humanos su derecho a visitas diarias aunque ellos han organizado varias sentadas ante la prisión Oukacha en Casablanca, Marruecos.

---

[Intifada 2005] [Violations des droits humains dans les territoires occupés au Sahara Occidental et au Maroc ] [Communiqués, lettres, Documents...] [HOME]