Révolte des Sahraouis - Revolt of the Saharawis - Revuelta de los Saharauis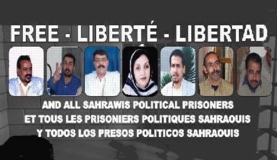 HUMAN RIGHTS GROUP OF THE PARLIAMENT OF FINLAND
to
H.E. Prime Minister Driss Jettou of the Kingdom of Morocco
Appeal concerning the situation in Western Sahara and the arrest of Ms Aminatou Haidar and Mr Ali Salem Tamek
Mr Prime Minister,
During the summer 2005 several pro-independence demonstrations occurred in different parts of Western Sahara. Reports from independent observers indicate that most of these demonstrations were peaceful. However, 37 Saharawis were arrested during and after the demonstrations and are being held in three different prisons in Morocco. The Moroccan security forces have been accused of using excessive force during the policing of the protests and of torturing and ill-treatment of the detained protestors. Some of the protestors have been tried and sentenced to suspended prison terms and prison terms up to 20 years' imprisonment.
In the context of the demonstrations several human rights activist were arrested. Among them are Ms Amintou Haidar and Mr Ali Salem Tamek, who have reportedly been victims of torture during the detention. Also earlier reports from the region accuse Moroccan officials of assaults, harassment and intimidation of local human rights defenders and journalists.
The Human Rights Group of the Parliament of Finland strongly condemns the arrest and any mistreatment of peaceful demonstrators and calls for an immediate release of Ms Aminatou Haidar and Mr Ali Salem Tamek.
Moreover, the Human Rights Group of the Parliament of Finland calls on the Moroccan government to co-operate with the United Nations in order to find a way out of the impasse concerning the future of the Western Sahara.
Helsinki, 19th September 2005
Ulla Anttila
Member of Parliament
Chairperson of the Human Rights Group of the Parliament of Finland

---

[Intifada 2005] [Violations des droits humains dans les territoires occupés au Sahara Occidental et au Maroc ] [Communiqués, lettres, Documents...] [HOME]