Révolte des Sahraouis - Revolt of the Saharawis - Revuelta de los Saharauis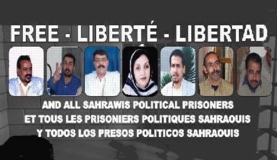 From the Sahrawi political prisoners' families
El Ayun, Western Sahara
To the Human Rights organisations, the live spirits and the local and International public opinion
An Urgent Appeal
Today is the 44th day of the open-ended hunger strike starting on August 08, 2005 that our sons in the Black Prison in El Ayun, Western Sahara, Ait Melloul prison and Oukasha prison in Casablanca, Morocco and who were arrested during or after the peaceful demonstrations that the Sahrawi people organised in late May to call for their right to self-determination and independence. As the Moroccan government is still refusing to open negotiations with the hunger strikers concerning their demands file, taking into account their health conditions deterioration, we are very upset upon their lives and the probable future disaster that may happen.
And as families of the hunger striking prisoners, we remind of the following ;
The abduction and arrest of our sons took place in inhuman conditions ; most of the prisoners were tortured and mistreated in police centers and secret ill-known jails.
15 out of 37 prisoners are still not tried ; they are still in prisons since May 25, 2005 in inhumane conditions while the rest were sentenced to hard verdicts in unjust trials ; their files were illegally made up, the deprivation of the accused of their right in the defense while in front of the general prosecution and the reliance of the trial on the police proceedings in the absence of any witnesses to prove or deny the accusations…..
Our sons are going on an open-ended hunger strike since August 08, 2005 which resulted in very serious deterioration of their health.
We appeal the live spirits, the local and international human rights organisations and the general public opinion to exert pressure on the Moroccan government to open a serious and responsible negotiations with the hunger strikers to avoid a human disaster and to guarantee the right of these citizens to life and physical security.
Signatures :
The Sahrawi political prisopners' families ;
Yaya Salka
Balla Lehdia
Amidan Fatma
Faw Mina
Binaho Minatou
Hammad Khawala
Lidri Khadija
Zraiguinat Zahra
Elmakki Banina
Eljanhawi Erraaboub
Chtiwi Mailmnine
El Ayun, Western Sahara
September 21, 2005

---

[Intifada 2005] [Violations des droits humains dans les territoires occupés au Sahara Occidental et au Maroc ] [Communiqués, lettres, Documents...] [HOME]