Révolte des Sahraouis - Revolt of the Saharawis - Revuelta de los Saharauis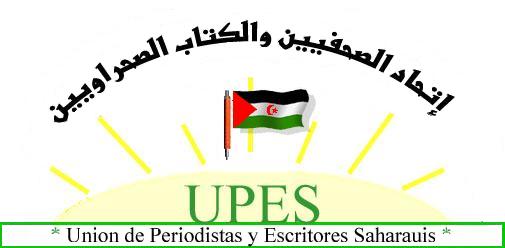 Saharawi Journalists and Writers Union (UPES)
Saharawi refugees camps
Email: secretariatupesario@yahoo.fr
Press Release
AAs usual Moroccan authorities expelled yesterday a Basque journalist, María Cristina Berasain, of the newspaper "Berria", against her will and against the will of Saharawi people who encourage all human rights organisations, observers and journalist to visit the Saharawi territory.
The Journalist tried to penetrate the occupied city of El Aaiun, Moroccan authorities stopped her in the airport and forced her to take the first flight towards Moroccan city of Agadir, because, they said, "she is a journalist and she had phone numbers of Polisario front's activists" in occupied territories.
This new attack against the freedom of journalism intervenes in a moment when Moroccan authorities are committing crimes and human rights violations against Saharawi population, that started from the 23rd of May 2005, and which cause hundreds injured Saharawis, dozens disappeared and dozens arrested.
- Saharawi Journalist and Writers Union (UPES) declares its condemnation of Moroccan human rights abuses, violation of Saharawi people's fundamental rights to life, expression, movement and political opinion in Western Sahara.
- The Union considers the UN, and its Mission on the ground, (MINURSO) the first responsible for the recent crimes committed by Moroccan forces against Saharawi people in Occupied capital of Western Sahara, El Aaiun, and in other cities of Western Sahara. UPES considers the passive attitude the international organisation adopts, in a way or another, as an expression of its complicity with the Moroccan forces of repression to the detriment of Saharawis.
- The Union calls on human rights organisations, journalists unions, Trade Unions, political parties and democrats all over the world to intervene vis-a-vis their governments to put pressure on the Moroccan regime so as to stop its flagrant violation of human rights in Western Sahara, to stop its violation of Saharawi people's right to self-determination and to respect the international legality.
- The Union calls on all free and honest journalists to organise a campaign against Moroccan regime in occupied territories of Western Sahara, and to pay visits to the zone under its occupation, pushing it to expel as many journalists as possible, and calls all journalists to contact Saharawi human rights activists, interview them and help break the medias siege Morocco is imposing on the region.
In this respect the UPES is ready to help in arranging the contacts and giving information, emails and phone numbers of Saharawi activists for this purpose.
03-06-2005 General Secretariat

---

[Intifada 2005] [Violations des droits humains dans les territoires occupés au Sahara Occidental et au Maroc ] [Communiqués, lettres, Documents...] [HOME]