Révolte des Sahraouis - Revolt of the Saharawis - Revuelta de los Saharauis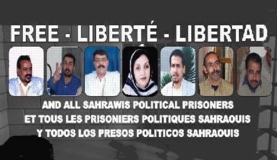 Appel au secours des mères des prisonniers politiques sahraouis
Nous, les mères des prisonniers politiques sahraouis, tenons à informer l'opinion nationale et internationale sur la situation alarmante de nos fils qui entament une grève de la faim illimitée depuis déjà 15 jours pour protester contre les conditions dégradantes et inhumaines qu'ils vivent dans les prisons : Oukacha de Casablanca, Ait Melloul et la prison noire de El Aaiun.
Leur état de santé se détériore de façon très dangereuse, nous étions surprises par les agents des prisons qui refusent les hospitaliser. Pourtant, certain parmi nos fils souffrent de maladies chroniques aggravées par la grève et tombent, à chaque fois, inconscients avec une totale incapacité de bouger et parler.
Ainsi, nous :
Exprimons notre extrême souci de l'état de santé de nos fils surtout les quatre emprisonnés à Oukacha : Elmoutaoikil, Noumri, Lidri et Laarbi ; dans l'impossibilité de suivre leur situation puisque leurs familles continuent d'être empêchées de les voir.
Demandons à l'administration pénitentiaire et les autorités marocaines d'assumer la responsabilité de tout ce qui peut arriver à nos fils puisqu'ils continuent à entraver leur droit à la vie.
Nous demandons de permettre aux représentants de la société civile indépendants de les visiter directement. De l'autre côté, nous déplorons l'interdiction [de visite par] sept membres de l'Association Marocaine des Droits de l'Homme « AMDH » de El Aaiun mardi 23 août.
L'heure est grave, nous implorons toutes les consciences libres : femmes, hommes et organisations de défense des droits de l'homme à se mobiliser et à intensifier leurs pressions sur les autorités marocaines pour qu'elles mettent fin à cette tragédie subie par nos fils. Nous sommes très inquiètes des conséquences de cette grève surtout qu'elle durerait longuement vu l'indifférence de l'administration marocaine.
Cette grève de la faim pourrait générer une catastrophe.
Nous comptons sur vous pour sauver nos fils ;
Au secours, au secours, please agissez dès maintenant ;
Le 24 août 2005,
Mères des prisonniers politiques sahraouis
---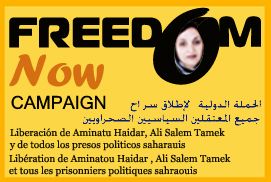 An S.O.S. Appeal of the Sahrawi political prisoners' mothers
We, the mothers of the Sahrawi political prisoners, would like to inform the national and international public about the alarming situation of our sons who are going on an open-ended hunger strike since Tuesday, August 09, 2005 to protest against the deteriorating and inhuman conditions in which they live in the prisons: Okasha in Casablanca, the local prison in Ait Melloul and the Black Prison in El Ayun.
Their health conditions are deteriorating in a dangerous way, and we were surprised by the prison agents' refusal to hospitalize them. Some of our sons are suffering from chronic illnesses which are intensified by the hunger strike; they fell down unconscious from time to time, and they lose the capacity to move or speak.
Hence, we:
Express our extreme anxiety concerning the health state of our sons, especially the four prisoners in Okasha prison: Elmoutaoikil, Noumria, Lidri and Massaoud; it is impossible to follow their situation as their families are still forbidden to see them.
Demand the prison administration and the Moroccan authorities to assume the responsibility of what may happen to our sons since they continue to deny them the right to live.
Demand the permission of the civil society representatives to visit our sons directly. On the other hand, we denounce the prohibition of seven members of Moroccan Association of Human Rights "AMDH" from visiting the prisoners in the Black Prison in El Ayun on Tuesday, August 23, 2005.
The situation is very serious; we call all the free minds, women, men and human rights organizations to move and intensify their pressure on the Moroccan authorities in order to put an end to this tragedy.
We are very worried concerning the consequences of this strike especially if it lasts longer in a complete Moroccan authorities' indifference.
This hunger strike may lead to a catastrophe.
We rely on you to rescue our sons;
Help, Help, PLEASE REACT NOW.
On August 24, 2005.
The mothers of the Sahrawi political prisoners

---

[Intifada 2005] [Violations des droits humains dans les territoires occupés au Sahara Occidental et au Maroc ] [Communiqués, lettres, Documents...] [HOME]