Révolte des Sahraouis - Revolt of the Saharawis - Revuelta de los Saharauis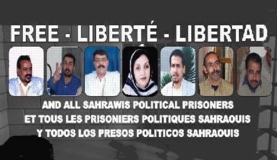 RESUMEN DEL DÍA 11 DE SEPTIEMBRE
ASSA (sur de Marruecos)
día 11 de Septiembre de 2005
A las 18.30, los habitantes de la ciudad de ASSA ( sur de Marruecos), salieron a la calle, en una manifestación multitudinaria para expresar su solidaridad con los activistas y presos políticos Saharauis en las cárceles Marroquíes, en huelga de hambre desde el día 9 de agosto pasado.
Los manifestantes se concentraron la calle LAWINA, para llamarla Calle Mohamed ELMOUTAOUAKIL, y desde ahí, emprendieron una marcha coreando eslóganes por la autodeterminación, la liberación de los presos políticos y la continuidad de la INTIFADA, hasta llegar a la plaza principal de la ciudad, llamada, en las manifestaciones del año pasado, plaza ALI SALEM TAMEK, donde escucharon un comunicado final.
Durante la preparación y la organización de la manifestación, hubo un despliegue de unidades de la gendarmería real y fuerzas auxiliares, bloqueando las calles y intimidando a los manifestantes.
Fotos : [1] [2] [3] [4] [5] [6] [7] [8] [9] [10] [11] [12] [13]
AAIUN
día 11 de Septiembre de 2005
A las 20.45 minutos, decenas de jóvenes saharauis organizaron una manifestación pacífica, en la calle Mezwar, portando banderas nacionales saharauis, donde también se corearon eslóganes de solidaridad con los presos políticos exigiendo su liberación y la autodeterminación del pueblo saharaui. Esta manifestación fue interrumpida al cabo de media hora, por las fuerzas de intervención marroquí que persiguió a los manifestantes por calles adyacentes.
CENTRO PENITENCIARIO OUKACHA (Casablanca)
día 11 de Septiembre de 2005
El estado de salud del preso político y activista de derechos humanos, BRAHIM NUMRIA, se ha agravado desde el pasado sábado 10 de Septiembre. Ha sufrido una pérdida de peso considerable llegando actualmente a pesar tan sólo 45 kilos. Durante más de tres horas permaneció inconsciente, debido a la huelga de hambre que mantiene desde hace más de un mes. Los médicos han aprovechado su inconsciencia para trasladarle a un centro de salud y extraerle sangre para su presunto análisis. Al recuperar la consciencia, NUMRIA rechazó la práctica sanitaria ya que se había realizado sin su consentimiento y exigió que se respete su derecho, recordando que días anteriores, los cuatro presos políticos saharauis encarcelados en Oukacha, decidieron no someterse a los chequeos médicos ya que éstos últimos colaboran de una forma descarada con la administración carcelaria para que los huelguistas abandonen la huelga de hambre.
ASSA
11.09.05: En début de soirée les habitants d'Assa sont sortis dans la rue pour manifester leur solidarité avec les prisonniers politiques sahraouis en grève de la faim. La foule s'est rasemblée rue de LAOUINA, pour la rebaptiser rue Mohamed ELMOUTAOUAKIL, de là une marche les amenés jusqu'à la place nommée au cours des manifestations de l'an passé place Ali salem Tamek. Les slogans avaient pour thème l'autodétermination, la libération des prisonierset l'intifada. D'importants déploiements policiers ont entouré la préparation et le déroulement de la manifestation avec bloquage de rues et intimidations.
Photos : [1] [2] [3] [4] [5] [6] [7] [8] [9] [10] [11] [12] [13]
EL AYOUN
11.09.05: Vers 20.45 des dizaines de sahraouis ont organisé une manifestation rue Mezouar, avec drapeaux de la RASD et paroles de solidarité avec les prisonnierspolitiques sahraouis, exigeant leur libération et l'autodétermination pour la population sahraouie. La manifestation a été interrompue après une demie-heure par l'intervention des forces de police qui a pourchassé les manifestants dans les rues adjacentes.
CENTRE PENITENCIAIRE OUKACH /CASABLANCA
11.09.05: L'état de santé du prisonnier politique et activiste des droits humains BRAHIM NUMRIA, s'est agravé. Il souffre d'une importante perte de poids et a perdu connaissance durant plus de 3 heures, en raison de la grève de la faim de plus d'un mois. Transféré dans un centre médical et soumis à des analyses de sang Numria a refusé toutes mesures médicales et exigé le respect de ses droits, rappelant que quelques jours auparavant le 4 prisoniers détenus à Oukacha avaient décidé de ne pas se soumettre aux examens des médecins qui collaborent avec les autorités pénitenciaires pour leur faire abandonner la grève de la faim.
ASSA
11.09.05 - 18:30: : The Castle of Steadfastness and Challenge, Assa, south Morocco, demonstrates in solidarity with the Sahrawi political prisoners going on hunger strike.
At the moment, Sahrawi citizens in Assa are on a big protest demonstration calling for the catering for the Sahrawi political prisoners' demands.
The demonstration started at a street that was named 'Mohamed Elmoutaoikil Street' (used to be called Laawina street). In a very enthusiastic and outrageous atmosphere, the Sahrawi demonstrators continued their march towards Ali Salem Tamek's Square in the center of the town in spite of the heavy security forces presence such as auxiliary forces and royal gendarmerie members, apart from the omnipresent secret informers.
The protestors held more than a hundred photos of the 37 political prisoners hunger striking for more than a month in the Moroccan prisons. They also held the following slogans:
- The masses of Assa call for the positive reaction towards the Sahrawi political prisoners' demands and for their unconditional immediate release.
- Stop violating human rights in Western Sahara.
- Assa is the castle of militants (in French).
The Moroccan security forces have been brought from different regions and put in schools that normally should receive students these days instead of soldiers.
At the end of the peaceful march, the Sahrawi former political prisoner in the glorious Assa Intifada of 1992, Baj Elhoucine, read a release in which he expressed the Sahrawis' solidarity with the hunger strikers and appealed the Moroccan state to cater for their demands before a human disaster takes place in Moroccan prisons.
Pictures : [1] [2] [3] [4] [5] [6] [7] [8] [9] [10] [11] [12] [13]
EL AYOUN
11.09.05: The Sahrawi citizens in El Ayun protest against the Moroccan colonalisation and brandish the Sahrawi flags.
In harmony with the great rise up that took place in Assa, south Morocco on Sunday, September 11, 2005, Sahrawi citizens go out in a protest demonstration in Mezouar Street in El Ayun, Western Sahara at about 20:45 of the same day. The Saharwi demonstrators held the SADR flags and called for the Sahrawi people's right to self-determination and independence and the immediate unconditional release of the Sahrawi political prisoners in the Moroccan prisons.
The protestors chanted the following slogans: -No alternative……. to self-determination. - A militant salute ………..to the Popular Front. - We will never sleep ……..as our sons in prisons. - Despite your tyranny ……. The people of Sahara will never die. - We will reach what we want…… a free party and a happy people. - The intifada will continue……. Will continue.
The demonstration lasted for about half an hour, but was repressed by the Urban Security agents led by Ichi Abou Hassan, and auxiliary forces. They interfered violently and dispersed the Sahrawi demonstrators, chasing them in the surrounding streets.
OUKACH PRISON/CASABLANCA
11.09.05: The health conditions of the political prisoner and HR activist Brahim Noumria is worsening. He suffers a serious weight loss and lost conscienceness on Saturday, September 10, 2005, at about 13:00, for more than 3 hours following his hunger strike of now more than one month. Transfered to the prison clinic for blood analysis, Noumria was very angry about this measure and refused medical treatment and asked for respect of his rights, recalling that all 4 prisoners detained in Oukacah have refused to be examined by doctors who collaborate with the prison authorities in order to force the prisoners to abandon their hunger strike.

---

[Intifada 2005] [Violations des droits humains dans les territoires occupés au Sahara Occidental et au Maroc ] [Communiqués, lettres, Documents...] [HOME]