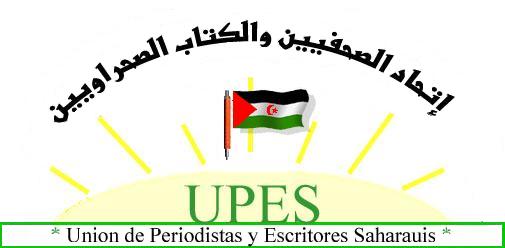 Saharawi Journalists'
& Writers' Union (UPES)
Saharawi refugee camps
Email: upes@upes.org
Press release
25 October, 2006
Expulsion of Norwegian journalists from the occupied city of El Aaiun
(Western Sahara)
on 24 October 2006 at 11.00 GMT, two Norwegian journalists, Miss. Anne Torhild Nilsen and Mr. Radmund Steinsvag, were denied entry to the occupied capital of the Western Sahara, El Aaiun, by the Moroccan authorities while they were planning to do their work as journalists and investigate on allegations of human rights violations committed by the Moroccan State in the Non-Self-Governing-Territory.
The two journalists were sent back in the same plane that brought them for the Spanish Las Palmas few minutes before. In a written statement the two journalists affirmed they had applied for press visas last January 2006 from the Moroccan Ambassy in Norway, but never received an answer. This same claim was confirmed by a press release publicised by "Reporters without Borders", it should be stressed.
The UN High Commissioner for Human Rights, it should be recalled, has reported flagrant human rights abuses and violations of the most fundamental rights of the Saharawi people committed by the Moroccan State in the occupied territory of the Western Sahara, in a report it considered as confidential though it was widely reported and commented by international press and international civil society actors .
In front of this act of intimidation and violation of the rights of the journalists to freely exercise their work, the Union of the Saharawi Journalists and Writers, UPES :
- Denounces these administrative manipulations frequently used by the Moroccan authorities, which deny entry to the territory to many journalists, Medias, delegations, observers, NGOs, without directly giving a clear rejection to their applications .
- Expresses its open solidarity and support to these journalists, paying tribute to their efforts aiming to inform the international public opinion about the reality of the situation in a sealed Non-Self-Governing territory, the Western Sahara .
- Condemns the behaviour of the Moroccan authorities who try to distort the reality of their occupation and repression against the Saharawi population in the occupied territories and south Morocco .
- Calls on the international community, the UN and also national and international organisations, especially Medias and human rights organisations, to break the media siege imposed on the territory and to divulge the reality of the Moroccan occupation in Western Sahara .
ANNEX
Norwegian journalists sent out of Western Sahara.
The two independent Norwegian journalists Rådmund Steinsvåg and Anne Torhild Nilsen were Tuesday 24th.of October not allowed to enter Moroccan controlled Western Sahara.
11.30 local time, we arrived El Aaiun, the capital of Western Sahara, by plane from Las Palmas. In the border control we were stopped, because we in the entry-papers informed that we were journalists coming to cover stories about Western Sahara. The plane from Las Palmas was held back, and could not leave until we were on board. The border-police called higher authorities and gave us the message that we had to go back to the Canary Islands to get press visas and then we could come back to Western Sahara the next days. We had to leave immediately.
We have already applied for press visas back in Norway. For more than nine months, (since 1st. January 2006), we have been waiting for an answer on our press visa-application. Despite several phone calls and e-mails we have not been given any answer from the Moroccan embassy in Norway, which is the authority we should get our visas from. The ambassador has told us that we just have to keep on waiting, and that he has contacted Moroccan authorities in Morocco to ask about our application. We have also e-mailed our application directly to Morocco, without any answer. At the boarder control in Western Sahara today, we were told that they never have received any press visa-application from us.
The Moroccan strategy of not answering applications from unwanted journalists is clever. When they do not answer, there is not much anyone can do. It seems like they just follow the rules of any democratic country, demanding that their laws should be followed, and that the problem is not the visitor, but details when it comes to paperwork. This leaves the impression that visiting journalists are "the bad guys" breaking the rules, and not being professional enough to wait for an answer that of course will be positive, it just sometimes takes time.
We believe this is not a coincidence, but the political strategy of the Moroccan state, which is concerning, because media and other organizations fail to see that they are tricked. There is nothing to complain about, because they have never told us that we are not allowed to come. This also makes it difficult for anyone who might want to help us, or other journalists in the same situation, with putting pressure on the regime, because no answer means we have no case. A clear no, would at least make it clear that neutral eyes are not wanted in the territory, and indicate that the regime has things to hide.
Last year, in April 2005, we visited Western Sahara, under the false impression that we were tourists. Then we were able to see parts of the situation in Western Sahara and meet people living under Moroccan occupation. Since then we have delivered material to Norwegian newspapers and national TV about what is happening in Western Sahara, which the Moroccan government do not appreciate.
We think that is why we for nine months have not received any answer on our press visa-application. And we think that is why we today were sent out of Western Sahara.
Anne Torhild Nilsen
Rådmund Steinsvåg,
Berserk Productions
Telephone: +47 415 00 559 / +47 901 60 166
Email: annetorhild@gmail.com
raadmund@gmail.com
---

[Communiqués, lettres, Documents...]
[HOME]